Last updated: August 17th, 2021
At Summit Eye Care, we are proud to be the first and only provider to offer the Light Adjustable Lens™ from RXSightⓇ in Wisconsin.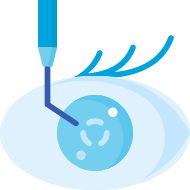 Light Adjustable Lens in Milwaukee
A recent breakthrough in vision technology, the Light Adjustable Lens (LAL) is the only adjustable intraocular lens that makes it possible to optimize a patient's vision after the lens is implanted. Thanks to Light Adjustable Lenses, many of our patients are able to greatly reduce or even eliminate the need for glasses or contacts after cataract surgery.

What is the Light Adjustable Lens?
The Light Adjustable Lens is a form of advanced intraocular lens implant (IOL). When the natural lens of the eye becomes cloudy due to cataracts (a common and natural result of the aging process), cataract surgery is performed to remove the damaged lens and implant an IOL in its place.
Standard IOLs are most frequently used to reverse the effects of cataracts, and they also help many patients achieve clearer distance vision. However, most patients who receive standard IOLs during cataract surgery will still require glasses or contacts for reading or to treat astigmatism. Advanced IOLs can correct refractive errors and astigmatism to help patients achieve further vision enhancement with the goal of reducing their dependence on corrective eyewear. The Light Adjustable Lens is the most advanced and premium form of IOL available.1
Unique Benefits of the Light Adjustable Lens
The LAL is the only implantable lens that allows for the correction of a patient's vision after implantation, and it provides the most precise and accurate surgical vision correction possible. When compared to other advanced IOLs, benefits of the Light Implantable Lens include the degree to which vision may be corrected as well as the ease and length of treatment required to achieve excellent vision.2
Only roughly 50% of patients who receive advanced IOLs during cataract surgery achieve excellent all-distance vision. For these patients, it may still be necessary to use corrective eyewear unless they wish to undergo refractive surgery. This can only be performed once the eye is fully recovered from cataract surgery, after three months or more.3,4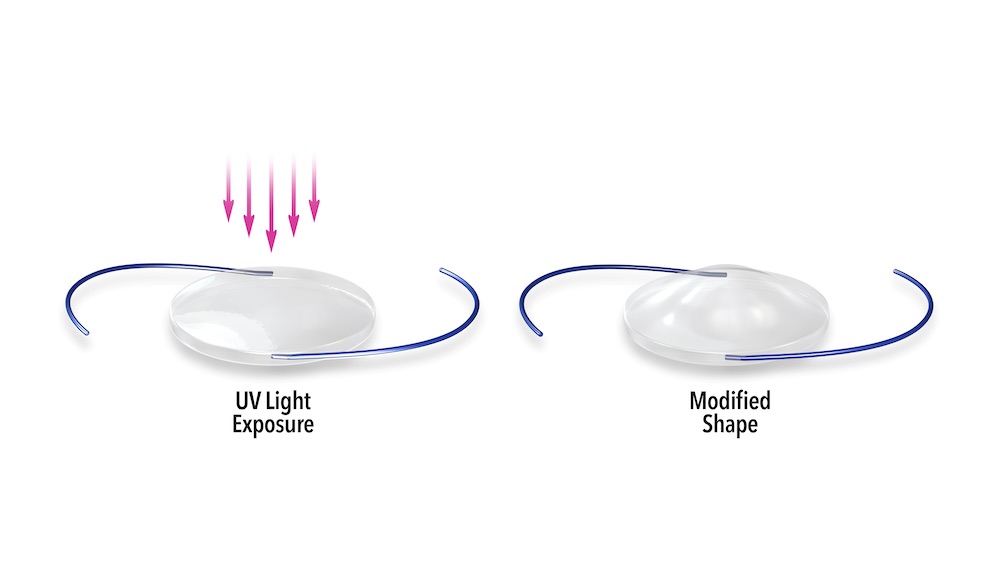 Light Adjustable Lenses make it possible to achieve patients' best possible vision with less downtime and shorter overall duration of treatment. With LALs, patients are able to begin making adjustments only a few weeks after cataract surgery through painless, non-invasive treatments that last only 90 seconds each. Treatment is often completed within a couple of months, and the results last a lifetime for the majority of patients.
A recent study found that patients who receive LALs are twice as likely to achieve 20/20 distance vision than those who receive standard IOLs.5
How Does the Light Adjustable Lens Work?
Unlike other forms of intraocular lenses, the Light Adjustable Lens makes it possible to customize a patient's vision after cataract surgery.

LALs are made from a special photoreactive material. Once a patient's eye has healed following cataract surgery, the surgeon exposes the LAL to a specialized pattern of light that actually changes the shape of the lenses. These minute adjustments make it possible to fine-tune the patient's vision and correct refractive errors to the highest degree of accuracy possible.6
Recovery Following LAL Implantation
Following surgery to place Light Adjustable Lenses, it is very important that you protect your eyes from UV light (including sunlight) by wearing protective glasses during all waking hours. You will be given a clear pair of protective glasses for indoor use and a tinted pair to wear outside during daylight hours. Since these lenses are designed to react to ultraviolet light during the customization process, unintended exposure may cause unpredictable vision changes that could make it impossible to properly adjust the Light Adjustable Lens with light treatments. Once your ideal vision has been achieved, Dr. Vukich will permanently lock the lens power during your final light treatment and protective glasses will no longer be required.
LAL Light Treatments
Two to three weeks after your Light Adjustable Lenses have been implanted, your eyes will have healed from surgery and you will be ready for your first light treatment. You will return to the Summit Eye Care offices in Wauwatosa, where Dr. Vukich will test your vision. Together, you will decide on the ideal vision outcome to suit your lifestyle, personal preferences, and unique goals before beginning light treatment.
For light treatment, you will be placed in front of the Light Delivery Device (LDD), which will deliver the UV light to your LAL and allow the doctor to adjust your vision. Treatment lasts roughly 90 seconds and is painless and non-invasive.
Most patients require between 2 and 4 light treatments to fine-tune their vision with Light Adjustable Lenses, with visits scheduled roughly 3 days apart. Once your optimal vision is achieved, Dr. Vukich will lock the lens power permanently into place.7
Who is a Candidate for Light Adjustable Lenses?
At this time, the Light Adjustable Lens is approved for use during cataract surgery. Potential candidates for vision correction with Light Adjustable Lenses:
Have pre-existing astigmatism
Do not use medications that increase sensitivity to UV light
Do not use medications that are known to cause retina damage
Do not have a history of herpes eye infections
Do not have a history of uncontrollable eye movements
The best way to determine whether the LAL is right for you is to discuss your unique concerns and goals with an eye doctor you trust.
Meet the Only Providers of Light Adjustable Lenses in Milwaukee
As the first and only providers of RXSight Light Adjustable Intraocular lenses in Wisconsin, the doctors at Summit Eye Care near Milwaukee are uniquely qualified to help patients achieve their best possible vision. Led by internationally-respected refractive surgery expert Dr. John Vukich, the team at Summit Eye Care takes pride in offering state-of-the-art vision care in an environment designed to enhance patient comfort. To learn more about the possibilities of permanently improving your vision using Light Adjustable Lenses, please contact us today to schedule your consultation at our offices in Wauwatosa.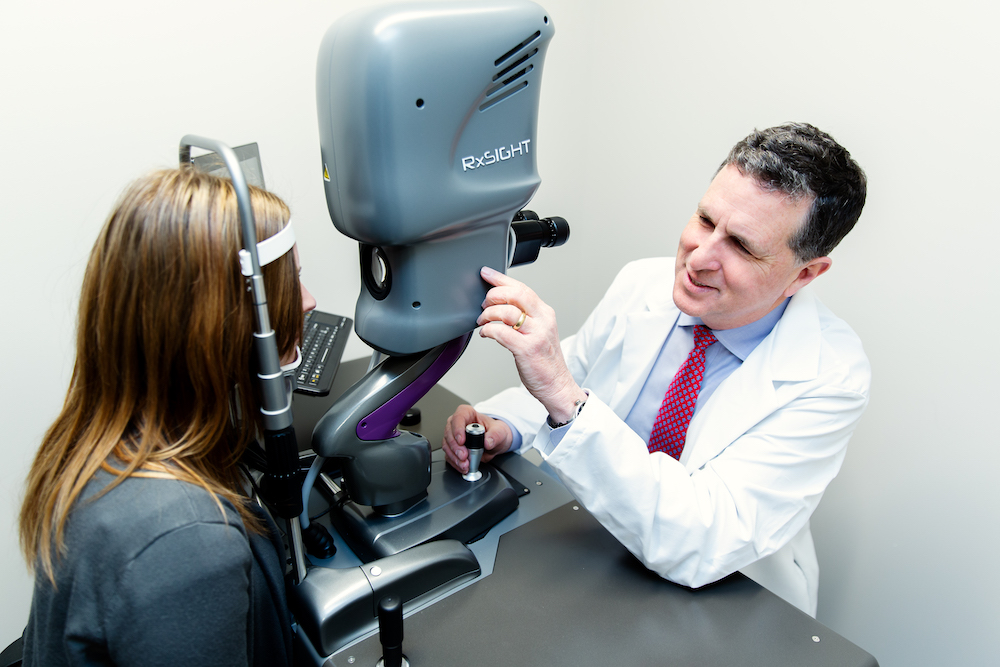 ---
1 American Academy of Ophthalmology. Intraocular Implants (IOLs). Available: https://www.aao.org/eye-health/treatments/iols-intraocular-lens. Accessed April 30, 2020.
2 American Academy of Ophthalmology. Adjustable IOL Could Help Some Ditch Their Glasses After Cataract Surgery. Available: https://www.aao.org/eye-health/news/new-iol-adjustable-after-cataract-surgery?gclid=EAIaIQobChMI8NHr27nw6AIVSx-tBh0pRg6kEAMYASAAEgIzE_D_BwE. Accessed April 30, 2020.
3 Bethke, W. RXLAL: say goodbye to postop surprise? Review of Ophthalmology. 2018:25(1): 12-13, 66. Available: https://www.reviewofophthalmology.com/CMSDocuments/2018/01/rp0118i.pdf. Accessed April 30, 2020.
4 2016 IOL Report, A Global Market Analysis for 2015 to 2021. Market Scope LLC; 2016.
5 US Food and Drug Administration. Summary of Safety and Effectiveness (SSED) of Light Adjustable Lens and Light Delivery Device system. Available: https://www.accessdata.fda.gov/cdrh_docs/pdf16/P160055B.pdf. Accessed April 30, 2020.
6 RX Sight. Customizing Your Vision. Available: https://www.rxsight.com/us/customizing-your-vision/. Accessed April 30, 2020.
---