At Summit Eye Care, we take great pride in helping our patients achieve crisp, clear vision for a lifetime. Our experienced ophthalmologists use advanced technology to perform a number of vision correction procedures, including LASIK laser eye surgery.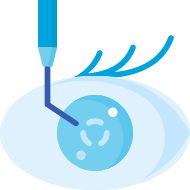 What is LASIK?
LASIK (laser-assisted in situ keratomileusis) is a form of vision correction surgery where an ophthalmologist uses a laser to reshape the cornea. A range of refractive errors including nearsightedness, farsightedness, and astigmatism are caused by irregularities in the shape of the cornea that prevent light from focusing as it should. This results in blurred vision. During LASIK, a patient's cornea is reshaped so that light focuses as it should and the need for corrective lenses is reduced or even eliminated.
According to the American Refractive Surgery Council, up to 90% of patients achieve 20/20 vision or better following LASIK vision correction surgery.1
Who is a Candidate for LASIK?
The best way to determine whether you are a good candidate for LASIK is to undergo a thorough examination with one of our experienced ophthalmologists. To qualify for LASIK vision correction surgery, a patient must be at least 18 years old and have had stable vision and eye health for at least one year.
Certain conditions may render patients ineligible for LASIK, such as:
Thin corneas
High levels of myopia
Uncontrolled diabetes
Dry eye
Corneal ulcers or abrasions
Corneal implants
Glaucoma
Autoimmune disorders
Keratoconus2
Many of our patients who are not suitable candidates for LASIK are able to achieve clearer vision with a different procedure, such as Visian ICL surgery.
LASIK: What to Expect
Preparing for Surgery
If your ophthalmologist determines you are a good candidate for LASIK after examination, we will schedule your procedure for the near future.
Little patient preparation is required for LASIK surgery. Your surgeon will ask you to stop wearing contact lenses for at least one week before your procedure, as contacts can impact the shape of the cornea.
On the day of your procedure, you should refrain from using any creams, lotions, or makeup on your face as this could increase the risk of infection. You will need to make arrangements for someone to drive you home after your procedure.
The LASIK Procedure
LASIK eye surgery itself only takes about 15 minutes, but you should expect to spend roughly 90 minutes at the surgery center on the day of your procedure.
In preparation for LASIK surgery, you will recline comfortably in a treatment chair while anesthetic drops are used to numb your eyes. Your surgeon will use a special device to keep your eyes open during the procedure.
To begin LASIK surgery, the surgeon will use a femtosecond laser to create a small flap in your cornea. Next, an excimer laser will be used to reshape your cornea. Once this is complete, the corneal flap is moved back into place where it will naturally heal itself. No sutures are required. Immediately after the procedure, you will be fitted with a protective shield over your eye and you will recover briefly in our offices before being released to go home.3
Recovery After LASIK
When you return home after LASIK surgery, you may experience itchy or watery eyes at first. Your surgeon will prescribe special eye drops to help you stay comfortable and reduce any redness, and you will be asked to wear the protective shield over your eyes when you sleep or rest for at least two days.
Most patients begin to notice an improvement in their vision in as little as 24-48 hours following LASIK surgery, though you may experience some blurred vision immediately after the procedure. As your eyes heal over the course of a few weeks, you will enjoy the full extent of your vision correction.
Driving after LASIK surgery is best left to patients' discretion. While some patients feel comfortable driving the day after their procedure, others prefer to wait a day or two.
Contact Summit Eye Care of Wisconsin
If you are interested in learning more about how you may be able to enjoy crisp, clear vision after LASIK vision correction surgery, please contact Summit Eye Care to schedule a consultation with an experienced ophthalmologist.
Frequently Asked Questions About LASIK
Does LASIK hurt?

No. You will be given anesthetic eye drops before the procedure, and at no point in your LASIK experience should you feel any pain. Some patients do report a sensation of pressure during the procedure.

What are the risks associated with LASIK eye surgery?

LASIK is generally considered to be a safe procedure, but any surgery does come with some risks and potential complications. Though rare, risks and side effects associated with LASIK include:

Dry eye
Infection
Inflammation
Light sensitivity
Dislocation of the corneal flap

Do I need to have my eyes operated on separately?

No. At Summit Eye Care, most of our patients prefer to reduce their overall recovery time by undergoing LASIK vision correction surgery on both eyes at once.
---
1 American Refractive Surgery Council. What is the LASIK Success Rate? Available: https://americanrefractivesurgerycouncil.org/laser-eye-surgery-lasik-success-rate/. Accessed February 11, 2021.
2 American Academy of Ophthalmology. Lasik. Available: https://www.aao.org/eye-health/treatments/lasik. Accessed February 11, 2021.
3 FDA. Lasik: what should I expect before, during, and after surgery? Available: https://www.fda.gov/medical-devices/lasik/what-should-i-expect-during-and-after-surgery. Accessed February 11, 2021.
4 American Refractive Surgery Council. LASIK Complication Rate: The Latest Facts and Stats You Should Know. Available: https://americanrefractivesurgerycouncil.org/lasik-complication-rate-latest-facts. Accessed February 11, 2021.
---